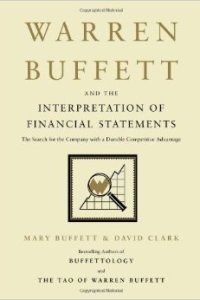 Warren Buffett and the Interpretation of Financial Statements: The Search for the Company with a Durable Competitive Advantage
Buffett, Mary; Clark, David
New York, Scribner
English
978-3864700460
224
Dr. Rainer Zitelmann
"You have to understand accounting and you have to understand the nuances of accounting. It's the language of business and it's an imperfect language, but unless you are willing to put in the effort to learn accounting—how to read and interpret financial statements—you really shouldn't select stocks yourself," says Warren Buffett (frontispiece). As is well known, Buffett prefers to invest in companies that have a long-term competitive advantage over their rivals, prime examples being Coca Cola, the Washington Post, or Wrigley.
But how do you identify such companies through an analysis of its financials? This is what this book is about. It is written in an easy-to-understand language and therefore suitable even for readers who have no degree in economics and who have never been in touch with corporate balance sheets.
The companies that Buffett takes an interest in "sell either a unique product or a unique service, or they are the low-cost buyer and seller or a product or service that the public consistently needs" (p. 12).
Whenever Buffett studies a company's financials, he is looking for consistency above all. "Does it consistently have high gross margins? Does it consistently carry little or no debt? Does it consistently not have to spend large sums on research and development? Does it show consistent earnings?" (p. 17). If so, then the respective company does have a durable competitive advantage.
The principles shared by this book are very simple, and yet tend to be neglected more often than not. Buffett cares much more about the origin of the profits than about the profits in and of themselves. What does Buffett focus on?
The cost of goods sold should be as low as possible.
Consistent high gross profit margins are decisive for the selection of companies to invest in.
One important ratio are the costs of goods sold and administrative costs, which should be as low as possible.
Buffett tends to steer clear of companies who spend a lot on research and development costs, because of your competitive advantage is the result of ongoing technical development there is always the risk of being outdone by a yet more innovative technology of a competitor.
He also favours companies with low interest expenses. Companies with a long-term competitive advantage ofte carry little or no interest expenses on their balance sheets.
Buffett also studies the amount of income tax a company actually pays because it suggests the company's "true pre-tax earnings." "Sometimes, companies like to tell the world that they are making more money than they actually are. (Shocking, isn't it?) One of the ways to see if they are telling the truth is to look at the documents they file with the SEC and see what they are paying in income taxes. Take the number they list as pre-tax operating income and deduct 35% from it. If the remainder doesn't equal the amount the company reported as income taxes paid, we had better start asking some questions" (p. 58).
Buffett is interested in companies like Coca Cola or Moody's who earn a net income of 21 and 31 percent, respectively. Such awesome figures usually indicate that the company has a competitive advantage.
The altogether 57 chapters discuss the major ratios of income statements and balance sheets, always with a view to the question of how to gather from the figures whether or not the company has a long-term competitive advantage. R.Z.
Social Share